If you're a parent with young children like me, planning a vacation can be a complicated, tedious, albeit exciting task. Take this California-Seattle-Vancouver trip we had some time ago as an example, but let's focus on California first…particularly Los Angeles and nearby attractions and sceneries.
Apart from thinking of places to visit that both us parents and children would enjoy in the city, deciding to stay in a hotel or availing vacation rentals in Los Angeles, or renting a smaller apartment was also on the to-do list. It was convenient to have relatives living there where we stayed for just a few days so as not to impose. 😉
Find flights
Actually, staying in Los Angeles even for a short time made us look into the possibility of moving in. Hearing from relatives how much their mortgage costs made me look into it and compare.
Vacationing in L.A. makes for a truly memorable experience especially since there are so many things to do and places to visit aside from Disneyland Resort in Anaheim. What's more, the weather is just perfect for different activities – outdoor adventure trips, food trips, swimming, shopping, or just walking along and soaking up what downtown Los Angeles has to offer. Here are some of the things we saw and did.
Homes of the Stars
We got to see how it's like to live like a movie star when we toured around some of L.A.'s extravagant houses. Yes, we felt that one of the best ways to enjoy a truly lavish vacation is to go on the famed Hollywood tour. L.A.s' lush green neighborhoods are a welcome view from all the busyness around. Palm tree, pine trees, and a handful more of them in rows until the end of streets, you'd forget how busy downtown LA was.
This tour made me look more into mortgages in Los Angeles. While the ones where the stars lived would surely be so much for a regular employee, other properties in LA seem lower lately due to the current economic situation that even the county has extended help to its homeowners by giving out grants of up to $20,000 for mortgage relief. LA is a good area to live in overall from our experience.
Disneyland Park
Of course, a visit to California won't be complete without planning a trip to Disneyland Park and Disney California Adventure Park. Then you need to consider various things to do – other awesome places to visit, experience new adventures, food to taste, etc. Personally, I think there's no other place that could offer all that and more but Los Angeles, a.k.a. "The Big Orange" and the "City of Angels".
When we went there, there was no way I was leaving out Disneyland from the itinerary. The trick to enjoying a magical Disney sojourn is to plan. It can be overwhelming especially with all the attractions waiting to be explored and experienced by every visitor in the world-renowned tourist destinations. However, armed with determination, I was able to wrestle my way through planning the Los Angeles/Disneyland trip.
Planning Disneyland
After booking, I browsed for helpful tools in planning the "Disney" vacation, as my children called it. The Disney website was especially helpful as I gathered information about the attractions and restaurants in the resort. I also looked for audio-visual materials with images and narratives about Disney parks. Believe it or not, there is a Disney Planning Spreadsheet, which is a worksheet and a calendar for organizing schedules.
When you have kids, accomplishing this spreadsheet is a must. I particularly found the Disney Crowd Level Chart helpful in picking the right date for the trip. We were able to schedule the trip during off-season, so the crowd was light and we didn't have to wrangle our way in. (Highlights to this trip was blogged separately.)
After our Disneyland sojourn, we went back to the hotel and recharged for next day's adventures.  Because all of us in the family love to eat, we decided to try out the infamous food trucks of Los Angeles. There is a website especially dedicated to finding out which trucks are expected to park in specific locations.
Food Trip
Here's a tip: most of the food trucks serve fusion cuisine at extremely affordable prices. I particularly enjoyed the truck that offered Korean menu – Japchae, Kimbab, and Kalbi. They even have kimchi quesadilla and kogi sliders!
There was a truck (The Grilled Cheese Truck) serving a dish called Cheesy Mac and Rib Melt, combining grilled cheese with grilled fall-off-the-bone tender ribs with a choice of three types of bread. Can you guess who ordered it? Other delectable goodies served by the food trucks included potato hash with peanut and leek sauce, veggies grilled with parmesan and herbs, spicy sausage and kale with fried egg and aioli, and roasted pumpkin and egg with spinach, mint, cilantro and yogurt. Yum! Kids love potatoes mostly, so they never get hungry after hopping from one place to another.
You can find in LA, all the food the world has to offer. Every single cuisine is represented, and you'd be able to taste each and everyone of them if you research first before going. You can get Mexican food just about anywhere, be it tacos, burritos, quesadillas, rellenos, and even tamales. Chinese food is also very-well represented, try Chengdu Taste for authentic Szechuan dishes. There is also no shortage of Japanese and Korean yumminess, and Thai, Viet food are also easy to find. Whatever your palate fancy, there's a restaurant you can drive to to satisfy your craving.
And where do you get the best American burgers? Any burger joint will have a distinct taste of their own. Try The Oinkster, Goldburger, Burgers 99, Billionaire Burger Boyz Compton among many other joints.
Lake Tahoe
Los Angeles is also just minutes away from places of natural beauty such as Lake Tahoe and Yosemite National Park. Hubby and I didn't pass up on the chance of going to Lake Tahoe.
Moreover, since it's seldom that we get to enjoy frolicking in the beach, we made sure to visit some of the sizzling beaches and breathtaking coastline of California. Santa Monica Pier with its amusement park was the best for kids to spend some time in. There's food, entertainment and just hours of fun to spend and build good memories.
Shopping
What's best to bring back to friends and  family when visiting LA? I could list a lot, but shopping around Rodeo Drive is an experience that's really one for the books. All of the high-end shops are here, and the best food in a beautiful setting can also be found here.
There are so many more shopping areas to explore in LA, and as though whatever you fancy, you will find here.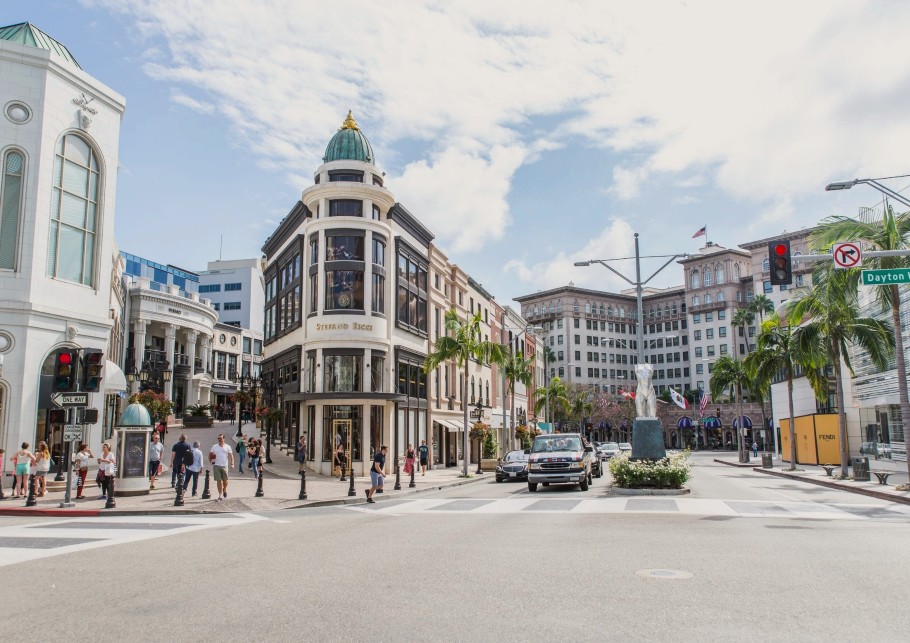 Los Angeles: A Little Bit of Everything in California
LA really has a little bit (maybe a lot) of everything, and it's a city that a family can really be happy. We've experienced a lot in LA (and neighboring counties), the food, the culture, art, shopping, and lifestyle and a lot more. Food from all over the world can easily be tasted on a restaurant a few minutes drive away. There are a lot of history to look into, museums and exhibitions to awe into, many shops to explore and get your outfit from, and beaches to relax in.
But you know what I looked forward to at the end of the day? It's resting in a place we could call "ours" while we were away from home. Whether in a hotel room, a resort rental, or apartment, even our own property (if we decide in the furture); what matters is the family that we would come home to.
| | |
| --- | --- |
| Pin This! (Los Angeles: A Little Bit of Everything in California) | Pin! (Los Angeles: A Little Bit of Everything in California) |