One of the least explored places in Asia and also the happiest country in the region is the Kingdom of Bhutan. That fact alone makes me want to see the place, it is on number 18 in this list of places I want to visit but I won't mind seeing it first. 🙂
 Unassuming yet enchanting. That's perhaps the best description for Bhutan. The country, one might say, is still unadulterated. The greenery and the mountainous landscape even though seen only in photos would give you a feel of fresh air and cool breeze.
Find flights
So what do you do in Bhutan in case you decide to visit?  Try the following:
1. Visit Dzongs. Dzongs or Zhongs are a type of fortress architecture.  They serve as the religious, military, administrative, and social centers of their district. Mostly, half is an active government facility and the other half is open to monks and to the public for prayer. Some of them worth seeing are Dzong at Wangdue Phodrang, Trongsa Dzong, the largest dzong fortress, Rinpung Dzong at Paro and the Pungtang Dechen Photrang Dzonga at Punakha which is said to be the most impressive.
2. Buddha Dordenma. See one of the largest Buddha rupas in the world. With a height of 169 feet (51.5 meters), this Buddharupa is made of Bronze and gilded in gold. There's also the Kuenselphodrang nature park just below the statue for added recreation.
3. Temples and Monasteries. There are a number of temples and monasteries all around Bhutan but one is most especially famous being located at the cliffside of the upper Paro valley that it appears to be hanging. Called Tiger's nest, the monastery is more popularly known as Paro Taktsang. The visit would be a challenge as you have to walk a lot going up. Consider this a fitness and spiritual visit in one trip.
4. Jigme Dorji National Park and Motithang Takin Preserve. Bhutan's national animal is called Takin, it looks like a crossover of a cow and a goat that many who have seen one says it's quite unique. They can be seen mostly at these two locations but more prominent at the preserve. The National Park also houses a number of other animals and birds which nature-lovers would be happy to encounter.
5. Handicrafts and weaving. Bhutanese law requires all Bhutanese citizens to wear the national dress in public areas and as formal wear. Thus, Bhutanese clothing is very unique and the weavers have perfected their hand-weaving traditions to create a fashion sense all their own. You might recall Queen Jetsun Pema Wangchuck, the queen consort of Bhutan, as the wife of King Jigme Khesar Namgyel Wangchuck during their marriage, though a commoner she was the subject of many magazines for her beautiful Kira wedding dress. The dress was woven from raw silk a, she wore a light yellow tego (long sleeved, short jacket-like garment) and a kira colored red, yellow, green and white, along with red earrings to match her red wonju (long-sleeved blouse).
There are shops were you can buy weaved products and local handicrafts, there are museums where royal clothing are displayed and where you can also buy them.
6. Food. Bhutan is widely vegetarian. This is a good way for one to go on a kinder diet, thus not only becoming healthy in the process…along with a lot of walking, a close encounter to nature and rubbing elbows with monks, you are sure to see the world in a different light after experiencing the life of the happiest people in Asia.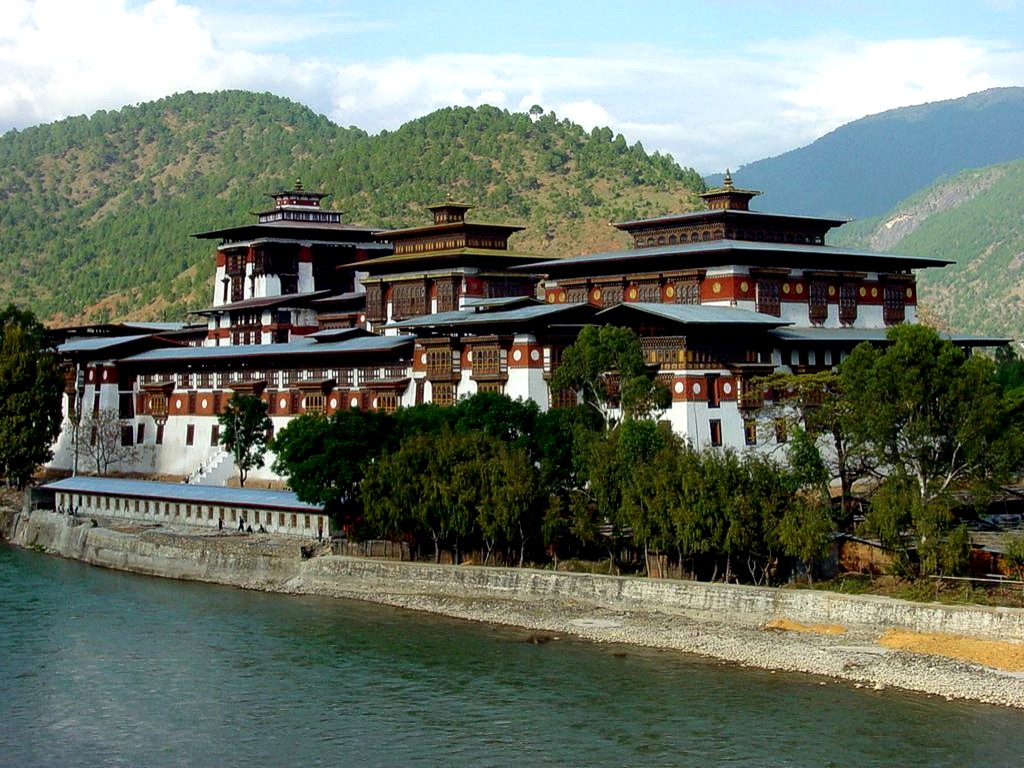 .